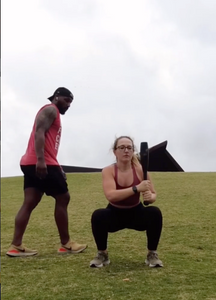 Training for life
​Primal Coach uses a unique, unconventional system, utilizing the most effective and proven techniques drawn from the sports world and successful fitness programs. Functional training increases your body's overall strength, mobility, balance, and durability. You will have a knowledgeable, experienced, certified coach guiding you through your journey and helping you achieve long term success.
​
Prices1:1 Session Prices$75 per 30 min session
$100 per 1hr session

In-Person Training Pack- 10 sessions30 minutes - $675
1 hour - $975

Virtual Training Pack - 10 sessions 30 minutes- $650
45 minutes - $750
1 hour - $950
FAQS
ARE SAFETY MEASURES IN PLACE FOR DEALING WITH COVID -19?
Yes, safety is a core value of Coach Primal LLC. We have procedures in place to ensure the safety and well-being of our customers and trainers, which includes but not limited to:
1. Sterilization of equipment before and after use 
2. Regular testing and evaluation of CP staff, which includes trainers and administrators 
3. Social Distancing and mask-wearing (required) at all times. ​
CAN I MIX PERSONAL TRAINING, MFR AND ONLINE TRAINING TOGETHER?

Yes! One of the benefits of training with Primal Coach is that our services support each other to make a better functioning, healthier you. Exercise is fun, but we also need recovery and healing to reach our goals. 
DO I NEED TO PURCHASE EXPENSIVE EQUIPMENT OR HAVE A WORKOUT ROOM AT HOME?
You do not need to own much equipment at all. Your "CP" Trainer will provide everything you need for a safe and challenging experience. Bring your body, and we will take care of the rest. 
HOW FREQUENTLY SHOULD I SEE A TRAINER?
The frequency of training should be based on your goals and limitations. From experience, we can say that 2-3 sessions a week are generally ideal for long-term success and crunching your goals.​
I HAVE NEVER TRAINED BEFORE, IS COACH PRIMAL FOR A GOOD PROGRAM FOR BEGINNERS?
Yes, Coach Primal is excellent for beginners and even competitive athletes. We have a "Foundations Program" that will assess you where you currently are, and we build a strong base from there.​
WHAT TYPE OF SUPPORT WILL I GET FROM MY COACH PRIMAL TRAINER?
You will have full support from the CP Staff and the ability to communicate with your trainer through email or messaging services. 
CAN YOU HELP WITH MY INJURIES AND LIMITATIONS?
Yes! We can work with or around injuries and limitations. Our clients' functionality and enjoying a pain-free lifestyle are two things we never stop striving to achieve.
CAN A FRIEND OR FAMILY MEMBERS JOIN ME FOR A WORKOUT?
Yes, "Teamwork makes the Dreamwork"! You can earn or purchase buddy passes so others can support your journey. Limited to 1 pass per session. 
HOW MANY PEOPLE CAN JOIN MY GROUP/TEAM?
We offer small group training (2-6 people) and small training classes ( 8 or more people). Rates vary. We offer Buddy Passes and Group Packages.