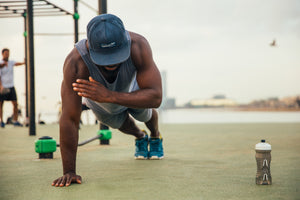 The Primal Coaching App
Your Sidekick For Tackling Unhealthy Habits nd building systems that promise consistency & confidence

Been on a workout break and need to ease back into exercise?
Virtual training with the Coach Primal App is a flexible addition to your life. Working in the corporate world, I understand the pressure of balancing a career, health, and family.
The App lets you:
- Easily incorporate sessions into a busy routine.
- Accountability. You get a 'real life' coach who is there for you on a daily basis - not just 2-3 times a week.
- Feel energised and incontrol.

Need a bespoke training cycle built for off/on season?
Whether you're training for a marathon or looking for inspiration to mix up your routine.
The App gives you:
- A tool to compliment your in-person training.
- Additional educational resources built on the latest and most up to date science.
- Mindset training. To make informed choices and train long term without injury.

Want to improve quality of life including day to day mobility?
he Coach Primal gives you workouts that are functional and supportive of a lifestyle change. 
The App helps you:
- Workout with short and long-term goals.
- Master movement for longevity and sustainable health.
- Reinforce healthy habits that are not about losing pounds, but rather about feeling confident & strong.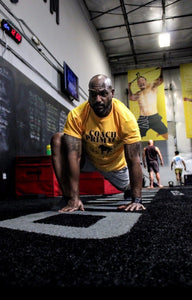 Meet Your Trainer Justin Penny (aka: Coach Primal)
Hey ya'll. Coach Primal here…
For 20 years I was a fitness director in the corporate world. A mentor and coach for my fellow co-workers, I helped them to create mental space, take back control, workout, and release stress.
Helping my clients tap into the power of consistency, reach new heights of accountability, re-frame mindset, and reverse damaging habits,- has always been the most rewarding aspect of my job.
When the pandemic hit, all of this came crashing down. My clients, naturally, still wanted to stay strong. Still wanted motivation and accountability. 
So, I continued training. Virtually.
From here, I launched the Primal Coaching App. 
A platform custom-fit to my clients personal goals.  A place where I create a plan for both on screen & in person fitness.
My mission with the App has always been about empowerment, positive reinforcement, and offering different styles of training to put my clients in the driver's seat. 
This is why I offer a free call before we exchange a single penny. It's important to me that we get to know each other, that way we both feel good, and I get to know the best way I can help you.
Remember, health is wealth.
- Justin.
Testimonials
"There's a whole motivation thing that comes with working with Justin and you don't even know it's happening. You kinda just fall into it."
"The App is where Justin programmes my mobility. It complements my in person training. It's a place I always go to as a resource, versus texting or bothering him for things." 
"The Coach Primal APP. stopped me from spiralling down physically and got me back on track.!"