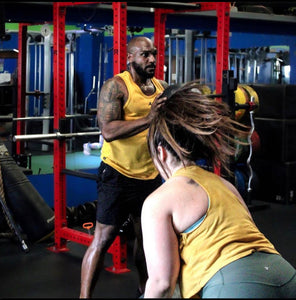 PRIMAL ACADEMY
Join our functional fitness classes today. We offer a variety of ways to get your strength, mobility, and plyometrics training done. Primal Academy caters to all fitness levels. No excuses, just adjustments 
​​
What you can expect : 
Live Instruction
Virtual or In-Person Classes 
Private Classes 
Supportive Environment 
Functional Training 
Fitness Games 
Good Times 
Who's it for:
All Fitness Levels 
People looking for new challenges 
Groups of Friends 
Traveling Professionals
Corporate Functions
FREQUENTLY ASKED QUESTIONS
I HAVE A SMALL WINDOW TO GET A GOOD WORKOUT IN, WHAT DO YOU OFFER THAT HELPS ME?
We are perfect for you. Our Primal Academy is ready when you are! It will give you access to programs and strategies to contribute to your success. Accessible on a computer and mobile devices and in person.
HOW DO I FIND THE TIME?
You make the time, self-care allows you to recharge and boot.
WHAT TYPE OF PAYMENTS DO YOU ACCEPT?

We accept all major credit cards through PayPal, $Cash App, Venmo, and Zelle. 
WHAT SHOULD I EXPECT FROM A COACH PRIMAL TRAINING PROGRAM?
We design programs that help our clients function and move better, living a pain-free lifestyle. You can expect a training system that delivers increased strength, mobility, and overall durability and functionality improvement.